$549.00
APEX 42mm
Ultra-Durable Battery Life
Make constantly charging your watch a thing of the past. With APEX, you will have a watch that is built to last above and beyond your workout. In UltraMax setting, the battery is carefully engineered to last up to 100 hours using GPS. While using normal mode will yield up to 35 hours, and regular usage up to 30 days.
Built in Premium
Transitioning from the workplace to training is easy with the APEX's intelligent build and design. With finish options including titanium alloy and stainless steel bezel alongside a sapphire glass face for extreme protection, you are prepared for any and every environment.
Simplicity at its Finest
Changing screens and using devices can be overwhelming with traditional buttons, especially in the middle of a workout. With the digital knob, you can easily navigate through the APEX, allowing you to focus on the important things like finishing your run or prepping your next set.
Training Efficiency Without Injury
To prevent injury, there's nothing more crucial than training correctly. We're able to accurately determine your overall effort, broken down into stamina level (0-100) and training effect (0-6). Exerted way too much stamina? COROS Trainer will notify you it's time to rest up. Based on the effort level and training history, you will then be able to see an advised recovery window before you begin your next activity. 
Navigation Track
Equipped with track and navigation features, APEX can be your best tool when you need directions the most. Routes are uploaded and displayed on grid as a bread crumb trail with real time information on heading and elevation and alerts to help you get back on course.
Smart Learning Stride Length
Introducing COROS' very own, Intelligent Stride Algorithm. This unique algorithm embodies machine learning at its core to record your personal range of motion while running. This will build your very own stride model that will be used for indoor running or areas of weak GPS signal (such as tunnels).
 - Learn Running Habits
 - During Normal GPS
 - Estimate Running Distance And
 - Track When GPS Is Weak Or Lost
Your Complete Training Guide
Based on a unique algorithm with lactate threshold, VO2 Max and HR, the COROS Trainer dials-in your running training every day. Using your personal historical data along with metrics from your latest activity, such as pace, distance and HR - COROS Trainer will calculate a perceived effort and recommend a time for full recovery.
Advanced Training Analysis
Once you've finished your workout, the best part begins. Our COROS App will give you a complete graphical analysis of your training – including: VO2 max, recovery advisor, threshold pace, last-7 days training load, personal fitness index and plenty more. Additionally, you can connect to your favorite 3rd party applications such as STRAVA and TrainingPeaks and automatically upload your workouts.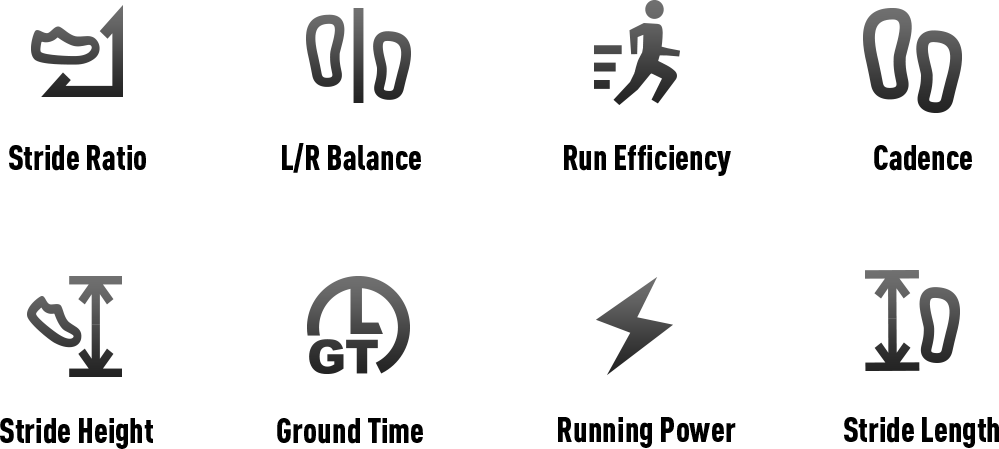 Working with COROS Performance Optimization Device (POD), APEX is able to provide advanced running metrics in real time, including power and form data to help turn you into a smarter and more efficient runner.
Technical Specification:
Display Size


42mm: 1.1 in. 218 x 218 (64 colors)
Display Type
Memory LCD
Screen Material
Sapphire Glass
Bezel Material


42mm: Stainless Steel
Strap Material
Silicone
Quick Release Bands


42mm: 20mm
Physical Size


42mm: 43.00 x 43.00 x 11.75 mm
Weight


42mm: 49 g
Wireless Connection
BT4.2 BLE for smartphone only, ANT+ for accessories
Navigation
GPS, GLONASS, BDS
Sensors
Optical Heart Rate Monitor
Barometric Altimeter
Accelerometer
Gyroscope
Compass
Water Resistance
10ATM (100 Meters/328 Feet)
Working Temperature
14°F to 140°F (-10°C to 60°C)
Storage Temperature
-4°F to 158°F (-20°C to 70°C)
Charging Time
Less than 2 Hours
Battery Life (46mm/42mm)
Up to 100/80 Hours in UltraMax GPS Mode
Up to 35/25 Hours in Full GPS Mode
Up to 30/24 Days for Regular Use
Supported Workouts
Run, Indoor Run, Trail Run, Track Run, Mountain Climb, Hike, Bike, Indoor Bike, Pool Swim, Open Water, Triathlon, Gym Cardio, GPS Cardio, Ski, Snowboard, XC Ski, Ski Touring, Multisport